ATA Literary Division newsletter worth a read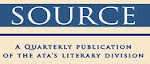 The latest issue of Source, a quarterly publication of the Literary Translation Division of the American Translators Association (ATA), is well worth a read. Source is co-edited by
AATIA members Michele McKay Aynesworth and Tony Beckwith. The Spring 2014 issue features articles about the challenges of preserving and translating indigenous languages spoken in former colonies, including "Murdering the King's Language," by Ugandan priest Joseph Musoke and "How to Live with the Good Way of Living," by Patrick Saari, translator of Ecuador's 2008 Constitution. Tony Beckwith's regular By the Way column focuses on the origins of the Latin alphabet. The issue also features several of the multi-talented Beckwith's cartoons.