Celebrate International Translation Day with AATIA!
We will be c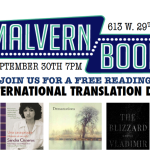 elebrating International Translation Day on September 30th, 6-8 p.m., with a special event at Malvern Books featuring readings from three renowned translators:  Kurt Heinzelman, Jamey Gambrell, and our own Liliana Valenzuela, who will be reading from her Spanish translation of A House of My Own (Vintage Español) by Sandra Cisneros and a couple of her poems, translated by Liliana or by Angela McEwan.
Kurt, meanwhile, plans to read a smorgasbord of lyric poems from French, Spanish, German, and Turkish. He will also talk briefly about the practice of translating from languages he does not know, such as Turkish. That should be interesting!
We will kick off the evening with a social hour for all AATIA members and friends, starting at 6 p.m. The reading will get under way at 7 p.m.
The event will be moderated by AATIA President Tony Beckwith and will also feature some mouthwatering refreshments.
Plus, Malvern Books will be offering 20% off all books in translation on International Translation Day!
Please join us!
Malvern Books is located at 613 W. 29th St. in Austin.  Download flyer.