International Translation Day
Many thanks to all who were able to attend our International Translation Day event on Sunday afternoon at Malvern Books! Jennifer Rose Davis's presentation on her experience translating Edmond Rostand's Cyrano de Bergerac was most entertaining and informative.
In addition to her many other talents, Jennifer has a beautiful voice, and in closing she sang us a moving a cappella rendition of a song from the production of Cyrano that she not only translated but also directed, costumed, and sang in. It was a joy to listen to her, and truly a generous gift to us, given that she had to dash straight from the bookstore to the theater to go on stage and open the evening's performance.
Following Jennifer's talk, Esther Diaz, who happens to be last year's recipient of the Harvie Jordan Lifetime Achievement award, presented this year's award. The very deserving recipient, Laura Vlasman, is a long-time AATIA member and someone who has worn quite a few hats in support of the organization over the years!
Laura was abroad on a job and unable to attend in person to don the fedora and accept her award, but we did get to see a digital Laura via a photograph on Esther's tablet.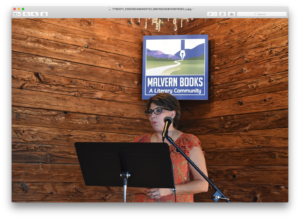 Congratulations to Laura, and heartfelt thanks again to Jennifer Rose Davis for the excellent presentation, and to Malvern Books for their hospitality!