Join us for a French-themed meeting on July 14th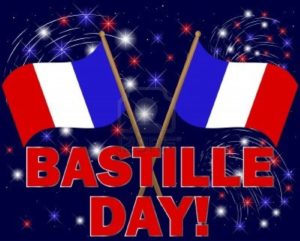 We will celebrate Bastille Day (July 14th) with a French-themed program at our next general meeting.  AATIA members Patricia Thickstun de Ribes and Michael Meigs will talk to us about their experiences as translators/interpreters of French (among other languages), including their work assisting refugees and other immigrants from Francophone countries. Patricia will also speak about her work as a research scientist in a laboratory in France, and Michael will relate some stories from his past career as a diplomat.
French-inspired refreshments will round out our celebration. Venez nombreux!
When: July 14th, 2018, 1-4 p.m.
Where: Best Western Plus Austin City Hotel, 2200 South IH 35, Austin, TX 78704, USA (intersection of I-35 and Oltorf St., exit 232 from I-35) map