Letter from the Board
Dear Friends,
We are now in the fourth and final quarter of 2018 and will soon be wishing each other a happy new year. As we approach that point, the Board is preparing to hand over to a new team of volunteers who are ready to take the reins and guide your association into the future. Pretty exciting stuff!
This was the goal of the Shadow Board initiative that was launched earlier this year. Now standing for election to the 2019 Board, these directors-in-training have had hands-on experience and will be relatively familiar with their duties and responsibilities, leading to a smoother transition for the benefit of all concerned.
On January 1st the sitting Board will hand over an organization with modest but stable financial resources and a membership that has steadily risen to about 130 and promises to continue its upward trend. Of great importance to members, the website is now functioning as originally intended, with new software that facilitates the efficient management of our database and directory. It is now easier for clients from anywhere in the world to browse through our directory and find what they are looking for.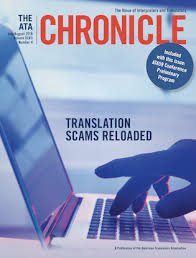 A fly in the ointment of life is that, with increased exposure and traffic, our site attracts attention from some we'd rather left us alone. Internet pirates and scam artists periodically poach in our waters, as they do everywhere on the Internet, and unfortunately that means members will occasionally receive unwelcome mails with bogus offers that, at best, represent a waste of time and, at worst, could breach their computer security with unpleasant consequences. Our domain has good security by current standards, and the Board will continue to try to improve on what we have. But tightening controls against this kind of intrusion means limiting the very exposure we're all hoping for, so all we can realistically do is remind members, again and again, to be alert, be careful, and be safe. In that connection, members might find some useful advice in an article entitled "Translation Scams Reloaded" in the July/August 2018 issue of The ATA Chronicle. And there's plenty of other advice online. Just Google "translation scams."
Our International Translation Day celebration is becoming an annual event. And a popular one, to judge by the standing-room-only conditions at Malvern Books on September 30th. It's an event that showcases our profession with a focus on literary translation and does wonders for AATIA's profile and standing in Texas academic and linguistic circles—both excellent sources of referrals for members. This year the event also provided the setting for the presentation of our new Lifetime Service Award, a ritual designed to be another annual tradition in the AATIA calendar.
We have one more general meeting this year, on Saturday November 10th, at the usual place (Best Western Plus Austin City Hotel, 2200 S. IH-35, Austin, TX 78704). Details will be posted on the website and e-mailed to members.
Feedback from members tells us that this year our meetings have been "informative, helpful, and fun." Everyone claims to appreciate the time spent socializing and networking, so that's mainly what we'll be doing next time! We'll have a fun program up first and then bring back a popular idea—the Pot Luck Buffet, for which members can bring delicious snacks from their home country or culture to share during the social hour that will round out the meeting. If you would like to bring a snack, please contact our Director of Professional Development, Monika Spindel.
I hope we'll see you there.
Tony