Marian Schwartz featured in current edition of Source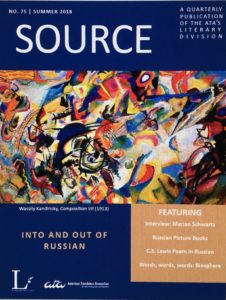 An interview with AATIA member and celebrated literary translator Marian Schwartz, focused on her new translation of Solzhenitsyn's March 1917,  is featured in the summer issue of Source, a quarterly publication of the Literary Division of the American Translators Association (ATA). Source is edited by fellow AATIA and LitSIG member Michele Aynesworth. This issue is devoted to translations into or out of Russian and includes three new toons by AATIA President (and translator, writer, and cartoonist) Tony Beckwith.
You can see it all here.