Our time has come!
"Our time has come!" said AATIA member and translator and interpreter trainer Esther Diaz, ending her presentation at our July 9th general meeting, in which she described several recent developments that promise to open up new opportunities for interpreters and translators in the Austin area. One of those developments was a language access audit conducted by the City of Austin, which found that, while the city has made efforts to provide language assistance services to Austin residents, it may not be meeting the needs of all residents.
The audit also found that, although the city spends $2 million a year on "bilingual pay programs," which pay stipends to bilingual employees to provide language assistance services to residents, "due to incomplete efforts and inconsistent oversight, the City is unable to ensure that the language assistance services it provides are fully accessible and effectively delivered." The auditors recommended that the city establish a stakeholder team to design a language access program.
Several members of the Community Advancement Network (CAN), including Esther, provided public comment on the audit findings (see video at http://austintx.swagit.com/play/06222016-559). CAN is a partnership of governmental, nonprofit, private and faith-based organizations working to leverage resources to improve social, health, education and economic opportunities in Austin. It and other organizations that provided public comment on the audit will be part of the stakeholder team.
CAN and the Multicultural Refugee Coalition (MRC), which assists the many refugees who are resettled in Texas each year, are exploring the possibility of setting up a network of translators and interpreters in Austin, following the model of the Translation and Interpretation Network (TIN) of Fort Worth (www.tintranslation.com). TIN is a social enterprise that provides translation and interpretation services and also trains bilingual individuals, including immigrants and refugees, to work as community interpreters. All its profits go back into the community. The TIN initiative has the support of City Council member Gregorio Casar.
Contact Esther for more information about TIN and the opportunities arising from these developments.
Our July meeting also featured a presentation by biomechanics and movement specialist Shannon Rashap of Clearpoint Wellness, who provided many useful tips on posture and how to alleviate the aches and pains that can come from sitting hunched over a computer all day. A series of videos demonstrating how to do some of the stretches and exercises Shannon showed us is available at https://www.youtube.com/user/ClearPointWellnessSR.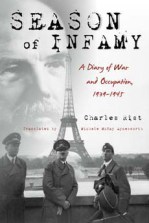 Last, but certainly not least, AATIA member and award-winning literary translator Michele McKay Aynesworth announced the recent publication of her translation of Une saison gâtée (Season of Infamy), by Charles Rist, a French political economist. The book is Rist's diary and presents his observations of life in occupied France during World War II. Michele's translation is the fruit of eight long years of work, which included time spent in Paris conducting research and interviewing some of Rist's grandchildren. Congratulations, Michele!
Plans are under way for our next general meeting, on September 10th, and for our annual celebration of International Translation Day, on September 30th. More information coming soon, but meanwhile save the dates!