Productivity tools, and more, for free!
AATIA held its first-ever "virtual" meeting on March 14th. Our speaker, Jeannette Stewart, who lives in California, had already been slated to speak to us online, but in the face of the coronavirus pandemic and the resulting social distancing measures, the Board of Directors decided to hold the entire meeting online. About 20 people tuned into the webcast – 15 or so more than AATIA President Marco Hanson was expecting.
Marco got the meeting started with a warning about recent scams targeting translators/interpreters and a reminder of the red flags to watch out for. Scammers appear to be taking full advantage of the COVID-19 situation, so this reminder was timely.
Jeannette Stewart then reprised a presentation entitled "How to Learn New Productivity Tools for Free", which she had first made during the American Translators Association (ATA) annual conference in 2019. Jeannette started her life in the T&I  business while working for a pharmaceutical company. This eventually led her to found CommuniCare, a translation company specializing in life sciences. After selling the company, she became one of the co-founders of Translation Commons, a collaborative platform offering free productivity tools and training.

Jeannette and her partners realized that a big challenge confronting many translators is the huge licensing fees for computer-assisted translation (CAT) tools. So they started looking for open source tools that could be made available to language professionals free of charge. Several such CAT tools are now available through Translation Commons (including several for interpreters).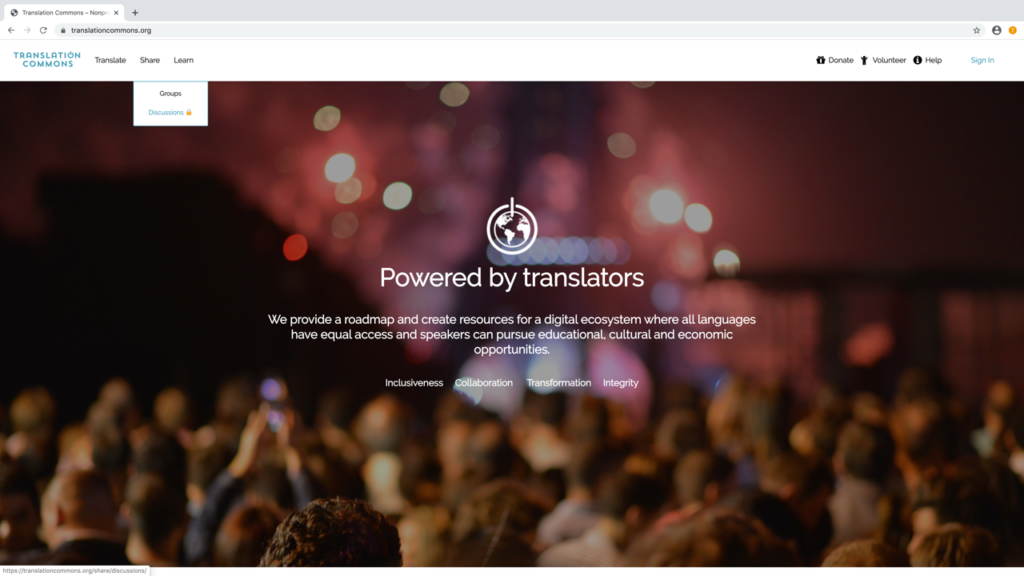 But that's not all there is to Translation Commons, whose mission is to "share knowledge equally in all languages so that no language and no linguist is left behind." The site is divided into three sections: Translate, Share, and Learn. The CAT tools are in the Translate section.
In the Share section, members can join and/or create working groups through which they can collaborate on various projects. One such group, the International Year of Indigenous Languages Group, is working with the United Nations Educational, Scientific and Cultural Organization (UNESCO) to help promote and protect indigenous languages.
A key aspect of that effort is the development of keyboards and fonts to enable the digitization of indigenous and other minority languages. At present, only about a thousand of the 7,000 or so indigenous languages that exist worldwide can be supported digitally, in most cases because of the lack of a suitable keyboard.
The Learn section of the Translation Commons site provides access to a variety of online courses, tutorials, and other resources, including online glossaries and terminology databases. The eCoLo (electronic Content Localization) project, also available in the Learn section, provides training materials for both students and teachers in order to help improve skills in different areas of computer-assisted translation.
More information about Translation Commons can be found on the site itself (including a demo of how the platform works) and also in this recent article in the ATA Chronicle. Any interested language professional can join Translation Commons free of charge. The site's Volunteer page offers numerous opportunities for seasoned pros to share their ideas and expertise and for beginners to network and gain valuable experience.
For AATIA members who were unable to join us online for the meeting, Jeannette's slides and a video of the webcast are available in the members-only section of our website.
Our next general meeting will be held on May 2, 2020. Watch "Upcoming Events" on our homepage for information about time, place, and program.