What the heck is a showuero? Recap of our September 14th meeting
Many thanks to AATIA member Sandy Adame for her help in compiling this recap!
On September 14th we gathered for our fifth general meeting of the year. Marco Hanson, AATIA President, got the meeting started and introduced our first presentation on "Terminology Mysteries Solved."
AATIA Secretary Sarah Baiz moderated the discussion and introduced our panelists: Tony Beckwith, an ATA-certified translator of English-Spanish and Spanish-English, who specializes in art translations for museums, galleries, and universities, and also a former court and conference interpreter; Jenny Chen, a Chinese-English translator/interpreter who currently works for the Railroad Commission of Texas and has had the opportunity to interpret for Chinese delegations in the oil and natural gas industry; Maurine McLean, a federally certified and Texas licensed court interpreter, conference interpreter, instructor in the ACC Translation and Interpreting Program, and also a musician and half of the duo The Therapy Sisters; and Wamid Shalan, an Arabic-English interpreter, former interpreter/translator and cultural advisor for the U.S. Army, and currently a consultant and provider of language services to businesses in the technology sector, government agencies and other clients. These seasoned translators and interpreters shared their experiences and discussed tips for dealing with tricky terminology.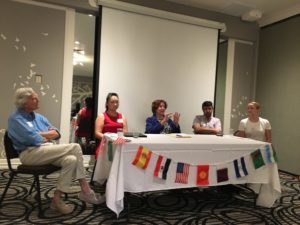 First, the panelists discussed how they deal with neologisms, slang, and other tricky terminology. That's when we learned what a showuero, or chagüero, is: a person who showers workers after they have been exposed to certain chemicals or substances. Tony had to make a quick decision about how to deal with this term when he was interpreting during a trial. He opted to explain the term, rather than trying to translate it literally. Wamid underlined the importance of keeping up with new acronyms and abbreviations when working for clients that tend to use a lot of them, such as the military. He also highlighted the difficulty of interpreting idiomatic expressions. For example, if translated literally to Arabic, the expression "if I were in your shoes" would be considered offensive. Maurine noted the importance of keeping up with new words and slang terms, such as "hangry," meaning you are so hungry that you get angry. Sarah pointed out that YouTube videos can be very helpful for deciphering the meaning of tricky terms. All panelists agreed that making a habit of reading in the source and target language can also be useful for spotting new terms and solving terminology mysteries.
The panelists also discussed how social trends towards more inclusive language and evolving gender views have affected translators and interpreters in their languages. Jenny said that she has not seen the trend towards inclusive and gender-neutral language taking hold in China yet. Maurine, on the other hand, has seen it with increasing frequency, as some Spanish writers are using @ or x instead of a or o and les instead of las or los, the feminine/masculine terminations and articles. Wamid told us that inclusive language is a sensitive subject in the Middle East and the approach adopted by a translator/interpreter will depend on the target audience. Tony recounted his experience "toning down" some sexist and potentially offensive language in a novel he translated.
AATIA members can log in to the members-only section of our website to see the video (to be posted soon!) of the panel discussion and hear the panelists' answers to other questions, such as how to handle possible and obvious errors in the source text.
Our second presentation, "Machine Translation: Friend or Foe?" was on how Google Translate is impacting our profession. Our presenters were Hector Rodriguez, Machine Translation Manager at Adams Globalization, and Gerald Stoneham, a former project manager for Adams Globalization and current project manager for Apple. Gerald explained that machine translation (MT) is a sub-field of computational  linguistics that uses software to translate text or speech from one language to another, while Hector noted that MT has evolved from word-to-word translation to intuitive translation, based on data, artificial intelligence and translation memories.
The two presenters discussed the criteria for determining whether a project is suitable for MT and also highlighted some of the pros and cons of using MT. Hector noted that factors for determining MT suitability include language pair, content type, number of words, and translation budget. Gerald pointed out that translation buyers need a realistic assessment of what MT can and cannot do for them. He also noted that, like any technology, MT is a tool, and tools used incorrectly can harm their users and those around them, but when applied properly, technology tools can deliver real benefits.
On the pro side, using MT can boost productivity, save time and money, and help to ensure consistency of terminology, especially if used in tandem with a computer-assisted translation (CAT) tool, such as Trados or Wordfast. But it can also yield incorrect translations, which can be costly and even dangerous in medical and legal contexts. Gerald cited a Kansas criminal case that was thrown out by a judge because the English-speaking police officer had used an inaccurate translation from Google Translate to obtain consent from the accused, a Spanish-speaker, for a vehicle search. When grammar rules between language pairs are very different, a machine translation will have blanks that may alter the whole meaning of the sentence. For example, MT systems cannot supply appropriate verb tenses in English when translating from languages such as Chinese that lack grammatical tense.  Furthermore, MT cannot discern contextual factors that influence the way something should be translated. For example, Google Translate – based on statistical data – equates doctors and engineers with men and nurses and teachers with women, even if the context makes it clear that the opposite is true in a specific case.
Gerald and Hector agreed that, while machine translation can be a useful tool for human translators, it will not replace them any time soon. "The only translators who need to worry about machine translation," Gerald said, "are those who translate like machines."
Our last general meeting for 2019 will be held on Saturday, November 9th. The tentative program topics are "Setting your prices and terms" and "Marketing your language services on a budget." Please plan to join us!