The AATIA Letter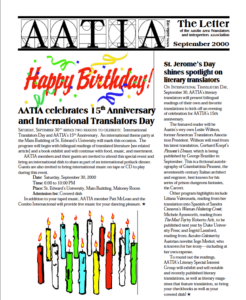 Shortly after AATIA was founded in 1985, the Board began communicating with members through a printed newsletter. This practice was continued for many years, during which time successive Communications Directors and their teams arranged for the printing, folding, and mailing of what was known as The Letter.
The final issue of The Letter was published in July 2008. Over the years, it had evolved from a single typewritten page to a multi-page color publication available in both print and electronic versions.
For virtually all that time, Mike Conner edited the newsletter, producing the bimonthly collection of articles, notes, and announcements that helped keep the Association alive and in touch with its membership. Like many other members, Mike gave generously of his time and talent. Now, in the digital age, the newsletter has been replaced by AATIA News, our website blog (also created by Mike), and other electronic communications.  But The Letter is an integral part of our history, so we wanted to ask Mike a few questions about his role as Editor.
Read our interview with Mike Conner.
You can browse a selection of issues of The Letter dating from 1987 by clicking on the links to the right.