Workshop bonanza coming in June!
AATIA will host/co-host three fabulous workshops on three Saturdays in June.
First up will be an ATA certification exam preparation workshop on June 8th. Co-hosted by the American Translators Association (ATA), the Houston Interpreters and Translators Association (HITA), and AATIA, this workshop will help prepare candidates to take the ATA certification exam. The workshop will be held in Houston. Two sessions will be offered: one on preparing for the English>Spanish exam and the other on preparing for the Spanish>English exam. The presenters will be ATA-certified translators who are also ATA exam graders.
AATIA and HITA members may register at the ATA member rate, whether or not they are ATA members. Early-bird registration will end on May 24th. Participation will be limited to 25 people per session in order to ensure the individual attention needed for an optimal learning experience.
With the cost of the ATA exam now at $525 and the pass rate hovering at only around 20%, it's more important than ever for exam candidates to be well prepared. Workshops like this are not held very often (and we've never had one in central Texas offered by graders of the Spanish>English exam), so potential candidates will not want to miss this opportunity. Register now to save your spot! For those coming from out of town who may wish to spend the night in Houston before and/or after the workshop, click for a list of nearby hotels.
AATIA and HITA members may register for the ATA member rate, even if they are not ATA members. The workshop fee includes the cost of an ATA practice test (an $80-$120 value). See the registration page for details.

Next, AATIA will offer a workshop on Wordfast computer-assisted translation (CAT) software in Austin on June 15th. This workshop will include two sessions, one in the morning and one in the afternoon. Participation will be limited to 15 people per session in order to ensure that everyone can receive ample attention from the instructor and gain hands-on experience using this CAT tool. We have chosen to offer a Wordfast workshop because Wordfast offers both Mac and Windows versions, whereas other CAT tools will only run on Windows, so Mac users can't use them without purchasing and installing Windows on their computers. However, the various CAT tools have numerous common features, so you'll be able to apply the skills you'll learn in this workshop if you decide to use a different CAT tool.
AATIA members please log in before registering to get the member discount.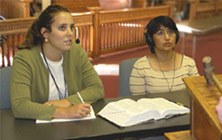 Last, but certainly not least, AATIA will once again offer a JBCC-approved court interpreting workshop that will enable interpreters licensed by the Texas Judicial Branch Certification Commission (JBCC) to earn 8 hours of continuing education credit, including 2 hours of ethics education. This workshop will be held in Austin on June 22nd.
Our presenter will once again be the indomitable Eta Trabing. The ethics portion will be a review of the Code of Ethics and best practices for spoken language interpreting in Texas courts, plus "What should I do if…" — a discussion on situations that may arise in court and what the interpreter should do in those situations. The other 6 hours will be on "The brain and its functions, memory and multilingualism," which will deal with how multilingual brains and memory work, plus tips on improving concentration and memory.
Licensed court interpreters are required to earn a total of 16 hours of approved continuing education, including 4 in ethics, every 2 years. Interpreters can carry forward 8 hours of CE to their next license period. Ethics hours cannot be carried forward. Find more information on CE requirements here.
Registration for the court interpreting workshop will open in mid-May.