AATIA kicks off year with three great meetings
Some 30 members and guests gathered on January 13th, 2018, for AATIA's first general meeting of the year, which featured a veritable feast of international snack foods, including Chinese fried twists, Argentine empanadas, Venezuelan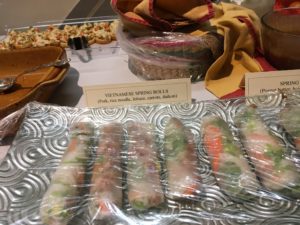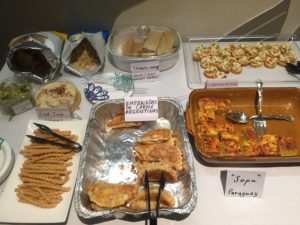 chicken salad canapés, Vietnamese spring rolls, Paraguayan "sopa" (not soup, but a delicious cheesy cornbread!), and Mexican tamales and tinga, to name but a few.
AATIA member Robin Bonthrone, who is also a member of the ISO Standards Committee of the Féderation Internationale des Traducteurs (FIT), gave us an overview of existing and proposed ISO (International Organization for Standardization) standards relating to translation, interpreting, and terminology, the main one being ISO 171000, which sets out requirements for translation services and focuses primarily on translation companies (which the standard calls "translation service providers"). Among other things, ISO 171000 requires that translations must be revised by a second translator who is at least as competent as the initial translator and also establishes qualification standards for translators, including a degree in translation or a degree in another area plus translation experience.
ISO standards for interpreting services include ISO 18841 (general requirements and recommendations) and ISO 13611 (guidelines for community interpreting), and additional interpretation-related standards are under development.
Robin noted that ISO also has a standard (ISO 18587) relating to post-editing of machine-translated output, which led to an interesting discussion of neural machine translation. But that's a topic for another meeting and another AATIA News post.
AATIA's Literary Special Interest Group (LitSIG) held its first meeting of 2018 on January 20th. After getting caught up on what everyone was up to, the group had a fine discussion about Eduardo Aparicio's latest project, his translation of El Material Humano, by Guatemalan author Rodrigo Rey Rosa.
The AATIA Interpreter Special Interest Group (ISIG) also met on January 20th and had an interesting conversation about translation tools that can help in written contexts, but that cannot prepare people for actual in-person encounters. The group also discussed issues relating to lack of recognition of our professional image as translators and interpreters and how we need to continually inform the public and organizations of the value of our work.
The next AATIA general meeting is scheduled for Saturday, March 10th. LitSIG will hold its next meeting on Saturday, March 17th. ISIG has not yet scheduled its next meeting, but will probably get together in April or May. Information about all general and SIG meetings will be posted in "Upcoming Events" on the AATIA website homepage.