Drenched in words
International Translators Day was celebrated worldwide on September 30th with observances and official recognition of the date by the United Nations.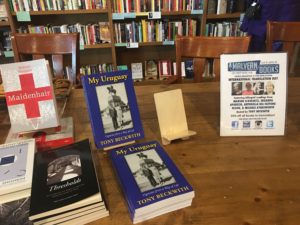 Lovers of language and literature in Austin were treated to their own celebration at Malvern Books, hosted by AATIA's Literary Translation Special Interest Group (LitSIG), with a reception for AATIA members and their friends and a delightful and thought-provoking multilingual program. Malvern Books graciously provided their space, logistical support, and a 20% discount on all works in translation.
AATIA president Tony Beckwith began with a thoughtful and erudite reflection on St. Jerome (patron saint of translators, librarians, and encyclopedists, and a translator himself), the joys and challenges of the profession, and some entertaining perspectives on translation as expressed by others.
An excerpt from Tony's remarks:
Hart Crane was a poet, but he could have been speaking about translators when he said: "One must be drenched in words, literally soaked in them, to have the right ones form themselves into the proper patterns at the right moment."
We translators are drenched in words. According to Françoise Wuilmart, the Belgian translator, we are also Idealistic, Overambitious, Obstinate, and Frustrated. 
Idealistic, because we struggle to find the perfect translation; 
Overambitious, because we are fully aware of our inability to achieve it; 
Obstinate, because we go ahead and do it anyway; and 
Frustrated, because we are never fully satisfied with our efforts."
The audience was then treated to readings by local translators and academics Eduardo Aparicio, Marian Schwartz, Antonella Del Fattore-Olson and her husband Bobby Olson, and Michele Aynesworth, and a surprise reading by Tony from his newly published book of reflections on his formative years in Uruguay.
With bilingual readings in Spanish, Russian, Italian, French, and English that included a poem, and excerpts from a novella, a play, and memoirs, audience members enjoyed a feast for the ears and mind packed into one short hour. The readings touched on themes of childhood and nostalgia, war and exile, family dynamics, resurrecting the dead, immigration, love, strangers on a train, politics, humor, and sorrow, among many others.
Many thanks to everyone at Malvern Books for their hospitality, and to LitSIG members Jimena Rico, Carly Ryan, Joan Tuttle Vargas, and LitSIG coordinators Michele Aynesworth and Kristin Siracusa Fisher, for providing delicious food and drink and volunteering their time to help set up the event.