Doing good work and specializing – recap of January general meeting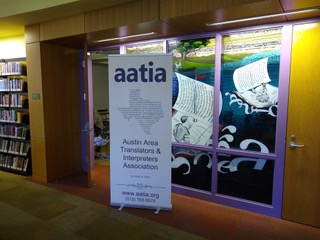 We had our first meeting of 2020 in our new location, the North Village branch of Austin Public Library. Marco Hanson, AATIA's recently re-elected President, introduced the 2020 Board members and we had a quick round of introductions. We were happy to see so many new faces and delighted to welcome some of our ASL interpreter colleagues.
Sarah Baiz took the floor for the first presentation, her own take on a presentation entitled "Doing Good Work," given by Nicholas Hartmann at the 2019 ATA annual conference. The presentation explored what it means to succeed in your career, whether as an interpreter or a translator, control your terms, be happy, and make enough money to do what you need/want to do. When you control your terms, Sarah explained, you have the freedom to choose projects, schedule, and timelines. If you like what you do, if you like how you are doing it and your process, you will be happy in your career.
To achieve this kind of success, you need to know yourself: know and understand your capabilities. In particular, know your work capacity and how much you can handle. Be ready to take risks and also to "fail constructively" and learn from your failures. But also know when to bail out – from a project, a client, or even the entire T&I profession if you realize it's just not for you. Specialize. Become the "go to" person in your field. Keep learning, not just about terminology but about what's going on in the real world in your chosen area of specialization. For example, Sarah, who translates medical texts, mentioned that she sometimes attends grand rounds lectures at the Dell Medical School.
Discipline – working when you don't want to, tolerating tedium, and staying productive – is essential. Be professional and, above all, ALWAYS deliver when you say you will, ALWAYS meet your deadline. Maintain open and professional communication with your clients. Sarah shared that her business usually increases in January thanks to the holiday cards she sends her active customers. This small gesture brings her to their attention, and when the next project comes along, she may pop into their minds. Lastly, you need an exit strategy. Know when it's time to retire and make sure to build up the financial resources to allow you to do so.
Our second presentation was a panel discussion on specialization, featuring with Patricia Thickstun de Ribes (scientific translation), Michael Magee and Leah Boone, Gisela Greenlee (medical translation), Marian Schwartz (literary translation), and Marco Hanson (legal translation/interpretation). Marco also served as discussion moderator.
Our panelists began by briefly sharing with us how they got started in their respective fields of specialization. It may surprise some of our readers, but it seems that many translators/interpreters have fallen into the profession "by accident." For example, Gisela, who had a career in banking before becoming a translator, came to medical translation after a neighbor asked her to translate some medical documents as a favor. Leah had worked in Japan, mainly in sales and marketing, for about ten years before moving to Austin, where, she said, a job in the semiconductor industry just "fell into my lap," and she became the main onsite Japanese-English interpreter/translator for a major electronics firm.
Patricia, a microbiologist and immunologist by training, was asked to revise scientific articles written in English by French-speaking colleagues at the Pasteur Institute in Paris. "These were very smart people," she said, "and they soon figured out that it was much easier for them just to write the articles in French and have me translate them." Mike has AATIA to thank, at least in part, for his career as a translator. He studied chemistry and environmental engineering while in university, but he also studied German. He worked for many years in the environmental field, and then one day in the 1990s he saw a notice of an AATIA meeting in the local newspaper. He attended the meeting and found that his knowledge of German plus his technical background seemed to be the perfect combination for a career as a technical translator. Marian has never really done anything other than literary translation, although she has translated some journalistic-type nonfiction. But she doesn't really consider herself a specialist in the field (although the numerous awards she has won for her translations would suggest otherwise). "Among literary translators, probably the only ones who specialize are those who just do poetry," she says.
The panel also discussed the pros and cons of having specialized in a field versus doing different subjects. Among the pros, which seemed to far outnumber the cons, is working on a subject that you know and love. Although the subject matter in technical translation can be rather dry and sometimes the source-language text is not very well written, at the same time, technical translation is very straightforward and therefore easier than, for example, translating marketing pitches or advertising copy. Another pro is that, as you gain more experience in a particular area, you can translate faster, which means you're able to earn more money for less time spent working (except maybe in the case of literary translators, who, in Marian's words, have to be willing to "swear a vow of poverty").
The panelists agreed that it's very rewarding to feel that you've become a subject matter expert and are producing excellent work that is appreciated by your clients. Both Michael and Patricia mentioned the satisfaction of working in your "comfort zone," although Patricia pointed out that sometimes working a bit outside that zone can lead you into new areas of specialization. That is how she came translate patents in the field of metallurgy. The panelists also agreed on the value of seeking out and receiving feedback and constructive criticism from both colleagues and clients who are subject matter experts.
To close the panel, Marco asked our specialists to share some advice on how they got their clients and spread the word about their specialty and talent. All emphasized the need to be proactive: hand out business cards, introduce yourself to potential clients at conferences and other events, or contact them by e-mail. This can lead to word-of-mouth referrals, and new clients will follow. When someone in your "audience" knows your skill and can bear witness to your good work, your reputation will set you apart.
Sarah's slides and videos of both presentations are available in the Members Only section of the AATIA website.
Our next general meeting will be on March 14th, 1-4 p.m., at the North Village branch library, 2505 Steck Ave. Our program will feature tips for translating images, PDFs and PowerPoints. Plus, we'll have recruiting event that will enable attendees to meet with T&I agency representatives. A prime opportunity to engage in some proactive self-marketing, as recommended by our panel!