2020 Board Elections Letter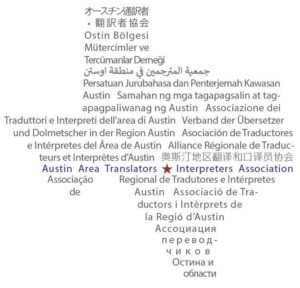 Dear Friends,
This is our association's 34th year, and we're finishing strong! Building on this long tradition of talented, generous members, we continue to grow and offer a variety of events and networking opportunities. How has AATIA helped you this year? I'd love to hear.
We have one more general meeting this year, on Saturday, November 9, at the usual place (Best Western Plus Austin City Hotel, 2200 S. IH-35, Austin, TX 78704) on Saturday, November 9 from 1:00 to 3:00 PM. We're taking steps to meet at a free location in an Austin library branch next year, and will let you know when that's finalized.
Holly Behl will be coming from Dallas as our special guest speaker at this coming meeting, covering very practical issues like pricing your services, setting terms, and marketing your services as a freelancer. She is an ATA certified translator, licensed interpreter, and UT-Arlington instructor of interpretation, as well as past president of TAJIT and MITA.
We're planning our annual holiday party for right after the meeting, in the Opal Divine's restaurant at the same hotel. I hope you can join us for one or both events!
It's also time for our annual election. The six members of the current board are all running for another one-year term, and the nominations committee is now taking input for other candidates. If you would like to nominate yourself or someone else, please email Patricia Thickstun de Ribes at accentsint@gmail.com or Michael Magee at mlmagee@austin.rr.com before the deadline of October 30, 2019.
We hope to see you soon,
Marco Hanson
AATIA President