God willing and the creeks don't rise – recap of the May 14th meeting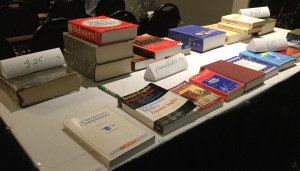 There is an expression used in Texas, "God willing and the creeks don't rise!" It's used as a statement of intent that acknowledges that forces beyond our control may succeed in derailing our efforts. People say: "We'll be there on Friday, God willing and the creeks don't rise."
The saying came to mind on Saturday , May 14th, when circling storms and relentless rain threatened to derail our general meeting. Undaunted, if a little damp, a group of intrepid translators and interpreters gathered in the usual place to do what translators and interpreters love to do most: talk about translating and interpreting.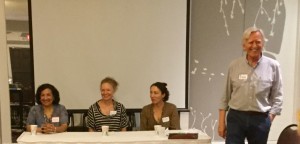 Three panelists provided the focal point for a wide-ranging discussion that included lively audience participation. Ruth Carroll, Idalia Martin, and Sandra Rodríguez replied to moderator Tony Beckwith's questions about their studies, work situation, and ambitions. It was generous of them to be on the panel, and their contribution was greatly appreciated, since listening to what others have experienced is almost always educational.
Speaking of generosity, the Garage Sale was the other main event at the meeting, and it was a success. Members picked through piles of used books and reference works and contributed a total of $288 to the Association, which is almost enough to cover what the hotel charges us every time we use one of their rooms for our meetings. Many thanks to those who donated their precious old books, and to those who bought them and agreed to give them a good home. The Garage Sale was a win-win for everyone, and we may repeat it in the future.
Best wishes to all for a great summer!