In Memoriam: Ezequiel Quijano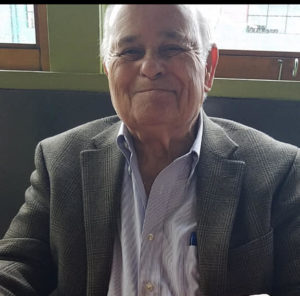 We are sad to report that former AATIA member Ezequiel Quijano, Sr., passed away on Wednesday, July 8th. He was born on March 2, 1945, in Monterrey, Mexico, the son of Ezequiel Quijano and Susana Madero. Ezequiel earned a bachelor's degree in business administration from the Universidad Nacional Autónoma de México (UNAM), and immediately thereafter married Carmen Rueda, in 1969. They had two sons, Zeke (1970) and Javier (1972).
In 1981, the family moved from Mexico City to Brownsville, Texas, where Ezequiel had an import/export business which transformed itself several times over the years, from selling industrial parts, to school supplies, to car-washing equipment. Eventually, in the early 1990s, once their two sons were in college, Ezequiel and Carmen returned to Mexico for a few years, but then moved back to Texas. They lived in El Paso, then San Antonio, then briefly in Austin, before settling permanently in San Antonio around 2000-2001.
It was around that time that Ezequiel and Carmen started their company, Translation Focus. Their son Ezequiel (Zeke), Jr., also a translator and interpreter, joined the business as a staff interpreter around 2012. As a language services professional, Ezequiel had a true love for his craft, always learning, honing his skills, and sharing his knowledge with anyone who wanted it. He served as AATIA's Director of Professional Development from 2001 to 2003.
For 20+ years, he served non-profits, government entities, public schools, private industry, and individuals, helping people connect with others through his translation and interpretation services. He worked until early 2020, when he realized that his performance at work was finally starting to slip. Early in June 2020, he was diagnosed with pancreatic cancer and quickly faded away.
He is survived by Carmen, his wife of 51 years, his two sons, a  daughter-in-law, and his five grandchildren – all girls, ranging in age from 9 to 21 years old.
Ezequiel was an exceedingly generous man. Generous with his time, his talents, his smile, his good humor, his knowledge, his compliments, his wisdom, his caring, and, of course, generous with his love for people. Especially for Carmen. "He was in love with her until the moment he died," says Zeke.
Fellow translators and interpreters remember Ezequiel as being a lively colleague, always enthusiastic and kind, a great mentor and friend who will be greatly missed. We extend our sincere condolences to his wife, Carmen, and the entire Quijano family.