LitSIG kicks off new season on Sept. 16th
AATIA's Literary Special Interest Group (LitSIG) will launch its 2017-2018 season of meetings on Saturday, September 16th under the leadership of its new coordinators, Michele McKay Aynesworth and Kristin Siracusa Fisher. The meeting will be held at Malvern Books, 613 W 29th St, Austin, TX 78705, from 2:30 to 4:30 p.m.
The program will feature a presentation by current AATIA President Tony Beckwith on his latest project, a translation from Spanish to English of a trilogy of novels by two Barcelona-based authors, Jordi Badia Pérez and Luis José Gómez Álvarez. 
These two writers are lifelong friends, who developed an interest in the Romanesque art stored in churches tucked away in remote villages in the Pyrenees. They were particularly interested in a mural in the church of Sant Climent de Taüll, which appeared to have been been mutilated in an attempt to hide a secret that challenged basic tenets of Christianity and threatened to undermine the authority of the Catholic Church. As they researched the history of the mural, the church, and the region, they started unraveling a story whose roots stretched back to the thirteenth century. One day they realized they wanted to write that story, so they did it together, and have so far written two books of the trilogy, a historical thriller.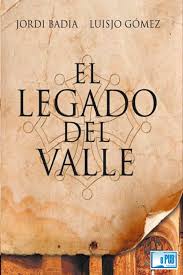 The first of these books is El legado del valle. See a teaser video here (in Spanish): https://www.youtube.com/watch?v=k564WqV6hBY
LitSIG meetings are open to all AATIA members, whether they are practicing or aspiring literary translators – or just interested in spending some time with literary translators.

LitSIG is also finalizing plans for the celebration of International Translation Day, which will take place on September 30th, also at Malvern Books. A great program is planned, beginning with a reception for AATIA members and their friends from 6 to 7 p.m., followed by remarks by Tony Beckwith and bilingual readings by Marian Schwartz, Eduardo Aparicio, Antonella Del Fattore Olson, and Michele Aynesworth.