Setting your prices & marketing yourself on a budget – recap of Nov. 9th meeting
It was, literally, standing room only at our last meeting of 2019 as numerous new and old members, along with a sizable group of students from the Austin Community College translation and interpreting program, turned out to hear our guest presenter, Holly Behl, who travelled from Arlington to give us some excellent advice on starting and growing a freelance business. Holly is a master licensed court interpreter, an ATA-certified translator, and a teacher of court interpreting at the University of Texas at Arlington. She is also the owner/operator of her own freelance business, Preciso Language Services.
The first part of Holly's presentation focused on how to set prices for your services. She recommends first deciding what you're trying to accomplish with your business and what else you want to do on a yearly basis (for example, take a trip or train for and run a marathon), and then work out how much you'll need to earn to be able to do what you want to do. Then calculate your budget, including your total projected revenue, your business expenses, and your "owner's draw" – the money you'll take out of the business to cover your living and other expenses. Don't forget to factor in taxes, savings for your retirement account, and required growth to cover increasing costs.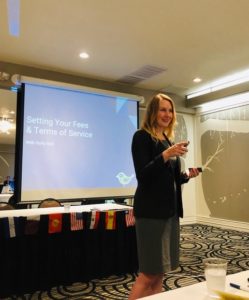 Once you've worked all that out, the next step is to calculate how many billable hours or words you'll need in a year and divide that number by your required revenue. That will give you a per-hour or per-word fee. To help with these calculations, Holly recommends translator Jonathan Hine's book I am Worth It! How to Set your Price and Other Advice for Freelancers. She also recommends not spending too much time thinking and calculating. Just set a fee and see if it works. If it turns out you've set your fee too high, you can always adjust downward. But be careful about initially setting your fee too low just because you're new to the field or feel you lack experience, she warns. If you start out charging a fee that is far below the market average, you won't be able to suddenly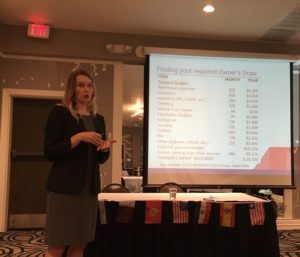 double or triple it after you gain some experience, so it will impact your earning potential for years. Besides, notes Holly, you probably don't want the kind of clients who are looking to hire the cheapest possible translator/interpreter.
In the second part of her presentation, Holly gave us some tips on branding and marketing, starting with a brief intro to the concept of branding, which involves more than just coming up with an eye-catching logo. Branding, says Holly, is a whole constellation of feelings that people have about something or someone. So when it comes to branding yourself and your freelance business, Holly recommends that you think about what impression you want your clients and colleagues to have about you. Then work very hard to make sure that you consistently leave them with that impression.
Other branding advice from Holly: be memorable, but be memorable for the right reasons (you don't want to be remembered as the interpreter who always arrives late, for example!); be a "giver" (for example, offer clients free guidance on setting a budget for translation); and "be the one they know." Holly highlighted the potential value of "weak links" formed through social media and other networking opportunities. A conversation you have with someone at a party might not lead to that person offering you work, but if the person encounters someone else who happens to mention that he/she is looking for a translator, chances are your party acquaintance will remember that you're a translator and steer the potential client to you.
Your approach to marketing will depend on whether you're just starting out or already have an established business. In the initial stages, you'll need to focus on getting the business up and running and doing some initial networking. Some first steps are to choose a business name (which may be something as simple as your surname + "translations" or "language services"), set up a LinkedIn profile, including a headshot (Holly recommends investing in a professional photograph rather than using a cellphone selfie), get a business e-mail address (avoid using a free address such as yahoo.com or gmail.com) and phone (if you don't want or can't afford a separate landline, use a cloud phone service such as Grasshopper or Ring Central), and have some business cards printed (they don't have to be fancy or super expensive, but they should look professional).
Last but by no means least, join some professional associations (such as  AATIA!) and get listed in their directories. In Holly's view, professional association dues give the biggest "bang for your buck" in terms of advertising.
Once your business is established, you can consider other marketing options to grow your client base. You might want to design, or hire someone to design, a logo, and you might also want to set up a website, a blog, and social media sites for your business. Another possibility is to rent a co-working space, where you'll be surrounded by other people with small businesses. They may not be in the market for a translator/interpreter, but co-working can be an excellent way of building those weak links that Holly recommends.
Our next general meeting will be on January 11, 2020. We will be moving our meetings to the North Village branch of Austin Public Library next year, and meeting times will vary somewhat, depending on when we are able to reserve space in the library's meeting room. Watch "Upcoming Events" on our homepage for details.