Translating into Hollywood and the Anatomy of a Personal Injury Case – Recap of our March Meeting
Before AATIA President Robin Bonthrone introduced the first speaker of the March meeting, he looked back to a time before the pandemic severely limited the Association's meeting options and activities and life in general. He mentioned the missed AATIA party at the end of last year and, of course, general meetings that could no longer be held in person. On a positive note, however, he pointed out that the Zoom meetings also offered an opportunity—presenters who may not be able to travel to Austin in person were able to share their knowledge with the AATIA members and a wider audience via Zoom. And there is a silver lining on the horizon: We may be able to resume in-person meetings later this year and hopefully celebrate International Translation Day on September 30 together in person and not behind a screen!
Glamorous and sparkling
Glamorous and sparkling were two adjectives used to describe YunJung (Elena) Chang's presentation Translating into Hollywood, A Case Study of the Oscar-Winning Film "Parasite." Elena, an "Expert for All Things Korean," offered a glimpse into the world of movie subtitling and presented some deeper insights into making a movie accessible to a foreign audience. In this case, it was the award-winning movie Parasite, which the director, Bong Joon Ho, described as "very Korean." Elena started by introducing basics, such as the differences in language, culture, and social structure, before praising Darcy Paquet, the subtitler of the movie, for his in-depth understanding of colloquialisms and, at times, bold solutions to make the jokes work for an English-speaking audience.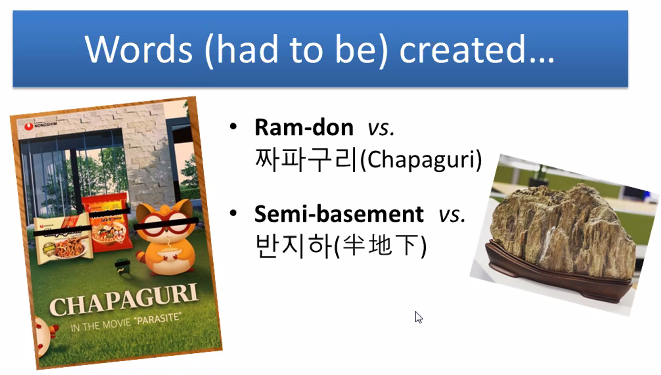 Listening to Elena Chang offered the rare opportunity to see what the challenges are with subtitling. As a form of translation, subtitling requires special software and technical skills. Subtitles are also often very condensed, and a subtitler needs to understand the source culture and the target audience, who must be able to read and grasp a concept within a split second no matter how many words are spoken by the actors. Elena chose a few interesting examples that highlighted Darcy Paquet's bold choices, such as creating words that fall outside source and target language but were necessary to bridge cultural and culinary differences. For everyone who loves translation, this was also an excellent presentation in terms of learning about these fascinating terminological choices and the professional development of an expert in the field.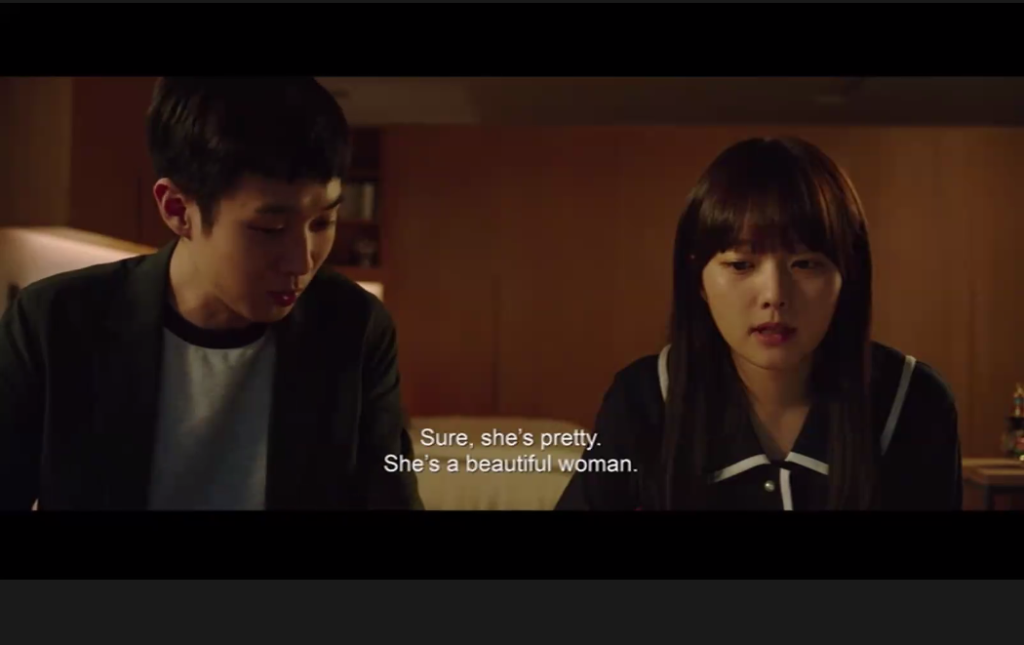 Other languages are Greek to us!
(Quote by John Abramowitz)
Our second speaker, John Abramowitz, was an expert in a very different field. As a practicing personal injury lawyer who has represented hundreds of clients, he has worked with many interpreters for languages such as Spanish, Mandarin, and Arabic. John explained the basic steps of litigation to the audience and highlighted the interpreter's role in each step. For example, John pointed out that, in the first step, the litigator seeks to get the truth from a large group of people and that it may become necessary for the interpreter to use his/her language and interpersonal skills to facilitate the relationship between client and lawyer. The reason for this is that cultural expectations can affect the relationship between client and lawyer. Things work differently in other cultures, and sometimes there is a need for more explanations. It helps to use the client's native language to smooth over some highly emotional responses. At other times, some of the questions have to be broken down for the client during this part of litigation, which also requires people skills, cultural knowledge, and linguistic skills. In short, the interpreter wears many hats!
There are rarely any surprises with the written truth-discovery questions because the questions often remain the same from one case to another. This was confirmed by one of our court interpreters who had joined us for the meeting. John pointed out the importance of due diligence during the truth-discovery step and noted that failure to turn over evidence could have real consequences later on, including having the case dismissed or even sanctions by the State Bar of Texas.

In the next step, the deposition, the opposing party gets to interview the witnesses; this is where a testimony could potentially be used against a client if it turns out that the client's answer is wrong. The lawyer will prepare the client for this step accordingly with the interpreter's help. Accurate interpreting is critical here because there are right and wrong ways of wording the truth. What clients do not say in the deposition they cannot say later on during the trial! Once again, John pointed out that interpreters are experts in their own right who can sometimes pick up when there is something on a client's mind but that they may have trouble expressing.

AATIA members will be able to access the March meeting recordings in the members-only section of the AATIA website soon.
We hope to see you at our next general meeting on May 8, 2021.