Avoiding scams and finding work – recap of May general meeting
Many thanks to AATIA "shadow" Secretary Sarah Baiz for the following recap of the May 2018 general meeting. Sounds as if those of us who weren't there missed a great meeting! Our next general meeting will be on July 14, 2018. Save the date!
AATIA President Tony Beckwith opened the meeting on May 12, 2018 by asking the attendees to introduce themselves and answer a simple question: What do you like best about your work as a translator or interpreter? The answers were illuminating and underscored how, for many, translation and interpretation goes beyond a simple job: I'm always learning and expanding my horizons; I like helping someone else to tell their story; the look on someone's face when they understand what's going on; there's a new challenge every day; it expands my view of what is possible; transcending borders with a message; curiosity about language as expression of culture and communication.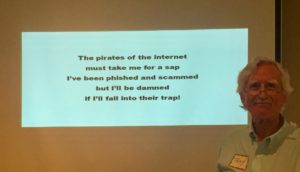 Tony then gave a presentation on the types of email scams that are becoming more and more common as scammers target us by skimming our contact information from public directories. He reminded us that the best defense against scams is learning how they work and how to spot them. He provided a good list of references and covered the main red flags that we can use to identify scams before becoming a victim. The top red flags include trying to scare you into doing something, an unreasonable request for personal documents, sloppy writing that is either too specific (specifying the exact number of words?) or not specific enough (not knowing what language the translation is for?). He also covered how scammers are becoming more sophisticated by making their emails seem like they come from legitimate sources by copying logos and making the email seem as if it is from a well-known company. Use common sense: if it seems too good to be true, it most likely is. You should become familiar with what a legitimate offer sounds like, so that those red flags become more obvious.
After Tony's warnings about scam job offers, Marco Hanson discussed how to use ProZ.com to both look for legitimate jobs and to hire someone for a job. ProZ.com describes itself as an "online community and workplace for language professionals". It has both free and paid memberships, with different benefits to each level. It has lots to offer translators and interpreters: glossaries and terminology help, member profiles where you can see how others present themselves and their work, forums where you can get technical help with CAT tools, virtual conferences, the BlueBoard where members rate companies they've worked for, and more. It's a good starting place when looking for work or if you have work you're looking to hire out. Marco first demonstrated how to set up a profile and talked about what type of information the profile should include, with the caveat that everything listed is public (always include a profile picture because it lends legitimacy to your profile!). Then he discussed two different sections of ProZ.com and how to use them: the Jobs board to bid for posted jobs and the Directories if looking for someone with specific skills.